First Baptist Church of Pine
Morning Worship Service will be at

10:30am
Communion will be celebrated
Children's Church will be available

Adult Bible Study this morning at 9:15am

Evening Fellowship tonight at 5:00pm
Yet in all these things we are more than conquerors through Him who loved us.
38 For I am persuaded that neither death nor life, nor angels nor principalities nor powers, nor things present nor things to come,
39 nor height nor depth, nor any other created thing, shall be able to separate us from the love of God which is in Christ Jesus our Lord.
Romans 8:37-39 NKJV

We have a link for electronic giving.
Check it out under the Contact/Support link above.
The mailing address is First Baptist Church of Pine,
P. O. Box 354, Pine, AZ 85544.
Adult Sunday School: 9:15am

Morning Worship Service: 10:30am
Children's Church

(5 yrs to 10 yrs old):
meets during Morning Worship Service
AWANA Sparks (grades K-2) meet from 2:45p-4:00p.
AWANA Clubs T&T (grades 3-6), Trek (grades 7-8) &
Journey (grades 9-12) meet from 5:00p-6:30p
Tuesday:

The Women of the Bible Speak
Office hours: 10:00 am to Noon
Office Hours: 9:00 am to Noon
Coming Events
February 4 – Men's Fellowship Breakfast
February 5, 12, 19, 26 – Sunday Evening Fellowship
February 6, 13, 27 – AWANA Clubs
February 7
, 14, 21, 28 – WOW Bible Study
February 14 – Valentine's Day
February 20 – No AWANA Clubs
February 22 – Ash Wednesday
March 4 – Men's Fellowship Breakfast
March 5, 12, 19, 26 – Sunday Evening Fellowship
March 6, 27 – AWANA Clubs
March 7
, 14, 21, 28 – WOW Bible Study
March 13, 20 – No AWANA Clubs
April 1 – Men's Fellowship Breakfast
April 2, 16, 23, 30 – Sunday Evening Fellowship
April 3, 17, 24 – AWANA Clubs
April 4
, 11, 18, 25 – WOW Bible Study
April 9 – EASTER SUNRISE SERVICE (est. 6:15am)

April 9 – EASTER MORNING WORSHIP 10:30a
April 9 – No Evening Fellowship
April 10 – No AWANA Clubs
PRAYING FOR THE PERSECUTED CHURCH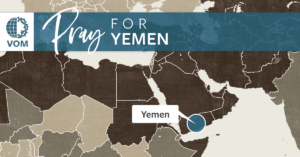 Overview:
For many years, the people of Yemen have suffered from civil wars and violence from Islamic extremists, including al-Qaida. Although the situation has further deteriorated since the start of the most recent civil war, the gospel has flourished and many Yemeni Muslims have come to know Christ. Yemeni Christians have become bolder in their outreach efforts, though it is still extremely dangerous to even be identified as a Christian. They must reach out in creative ways that are both bold and wise. Small but steady numbers of Yemenis are continually being added to the body of Christ, and more are gaining interest as the influence of Christian media grows. Most regions of the country include at least one follower of Christ.
Major Religion:
Nearly all Yemenis are Muslim, about one-third Shiite and two-thirds Sunnis, both of which are represented by warring factions that divide the country. Christians in Yemen account for only a small fraction of 1 percent of the population.
Persecutor:
Persecutors include the government, Islamic extremist groups, communities, tribes and families of Christian converts.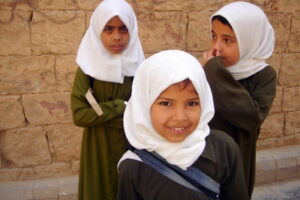 What It Means To Follow Christ In Yemen:
Converting to Christianity from Islam is a crime punishable by death, and families consider it extremely shameful for a family member to become a Christian. Christian converts face harassment, the possibility of losing jobs and family relationships, and potentially death. Christians worship secretly in homes or in small groups outdoors.
Access To Bibles:
Bibles can be found in Yemen, but they are difficult to obtain and dangerous for converts to own. For these reasons, many Yemeni believers access the Bible online.
Voice Of the Martyrs Work:
VOM helps Christians who are persecuted for their faith and supports Yemeni believers who reach out in their community. We also support various forms of media that make God's Word more accessible inside Yemen and help Yemeni believers who had to flee and now live in nearby countries.
Prayer Requests:
Pray

for local fellowships meeting in secret throughout the country.

Pray

for Ahmed and his family as they seek asylum in a foreign country because of persecution.

Pray

that imprisoned believers will continue to find strength and encouragement in Christ.

Pray

for displaced believers who are leaving the country as refugees.

Pray

that the faith of persecuted Christians who leave the country will not be shaken.

Pray

for the boldness, wisdom and protection of underground churches.

Pray

for Sarah, who was recently released from prison.

Pray

that a persecuted woman and her children will continue to find peace in Christ.
Affiliated with Southwest Church Connection