June Mission Prayer Emphasis
Serving with Missions Door in Panama
October 2021 Prayer Letter
Dear Brothers:
We thank God for life and its protection. We continue working for the glory and honor of God, We have encountered many challenges with plans to return to medical group projects. Covid with all the closures, immunization controversies, testing and safety concerns, airline restrictions, flight changes and rising costs are just a few, but the most challenging is the new Delta variant circulating in our country and mostly immunized people, which could prevent members of medical groups from supporting us in our country for fear of not passing the tests back home. You know that vaccination is preventing the fatal disease of this variant but we see individuals vaccinated with positive Covid tests, asymptomatic, we hope in 2022 to be able to return with medical groups.
Jennifer the 15-year-old girl who fell from her horse in August and was hospitalized for loss of consciousness in a coma for 15 days has surprised us with her fast recovery, we were surprised to see Jennifer walking, she gives the Glory to God for her life since the doctors believed that she would not wake up and would be a vegetable person or would depend on many devices to live.
We visited Guaymi (Indigenous) communities with very low economic resources, we shared the gospel with them and some food, this time the mother of the home had a lot of pain in her back, possible kidney stones, but they have 5 minor children with very low resources which makes it impossible for them to seek quality medical care. Let's pray for this family.
Let us pray for new tires for the car with which I am mobilizing for these indigenous communities, they already need an urgent tire change, the cost is $ 222 to be the change of the 4 tires, if you are able to help me, please contact me.
Thank you for your prayers and your support.
Blessings,
Dr. Azucena Matute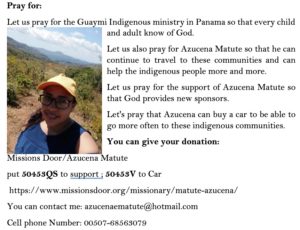 Dr. Matute works in Panama and Central America help missionaries and pastors to organize medical brigades and teach how to take care of their physical and spiritual health, the word of God is taken to many, Panama is a very Catholic country and difficult for evangelization, we have developed some strategies to be able to teach the word of God, among them are the medical brigades, blood pressure taking, medical consultations, activities with children, education about disease prevention to the population, social work, food to people with very low resources and mainly evangelization
These months we have worked thanks to the donations and prayers of each of you, without your support none of this would be possible. In one of the activities of these months we have donated Lenses to read, many of them were so happy and grateful because they did not have the financial resources to buy glasses to read their bibles.
Before Covid-19