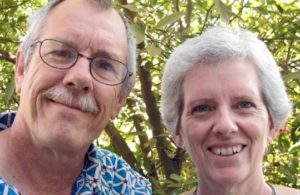 Serving in Fourou, Mali, West Africa
Dear Ministry Partner,
Subject: Shiɛnciaanri ninge
The new word ("ninge") in the subject line is the Shempire for "again," and so together with shiɛnciaanri it means some more good news. So, with this update we have some more good things to share with you.
You prayed for the evangelistic outreach last Friday, and Pastor Mamadou says that there was a good turnout of both church members and the people in the Tengrela neighborhood. As for the latter, he calculated that there were at least 150 people visibly present and quite a few more who were listening and observing from the shadows. This allowed them the freedom to hear the messages, music, etc. without being readily seen by others. All in all, even though people did not come forward in response to the invitation there was a lot of interest and people listened quite attentively. So, some good seed was planted and watered in people's hearts. Pray that there would be good follow-up and that the church would continue to spread the Yesu Krista shiɛnciaanri.
Another piece of good news is that we have the joy to let you know that Philippians has received its official approval and so can be used in the ministry here. So, this is the fourth book this year to finish all the steps and now can be put into use. The other three were John, Acts and Philemon. All together this is a great praise to our Lord. Thank you for praying for the translation. We are making good progress and the Shempire New Testament is ever closer to having all its books available. Hopefully, be yearly next year Ephesians and Colossians will be approved so that we can have two more of Paul's epistles in the people's hands. Pray that this would be so.
The last good news in this update is that our support need is shrinking! Another couple has written indicating that they will begin supporting us at $50.00 per month. So, we are only $475.00 short of being completely supported meaning that we are at just about 95% of fully underwritten support. Thank you for praying for this need. And please, continue to pray that by year's end the remaining 5% will be underwritten.
And thinking of support, we want to express our deep and heartfelt thanks to all those who have invested financially in this ministry either through regular support or one-time gifts this past year. Your sacrificial giving is why we are here and able to minister the Good News of Christ to those who so desperately need it. Your gifts enable us to bring the Word of God to the people here.
And with this update we will close out 2020, unless God sends some more shiɛnciaanri our way. So, thank you to all our faithful prayer partners for sacrificing your time and energy in lifting us and the ministry before the throne of grace this past year. Because of your good intercessions people are being impacted and transformed by Christ and his grace. Thank you for having a part in this.
As I close off, I will take this opportunity to express our warmest holiday wishes, praying that you will have a blessed Christmas and super New Year experiencing God's presence in ever new and refreshing ways throughout this coming year.
Thank you for partnering with us and remembering all these requests before our heavenly Father.
Truth and knowing truth is the ultimate existence of man. (Psalm 51:6)
Ministry page: https://worldventure.com/tlrequadt
Telephone: 223-72-03-28-93