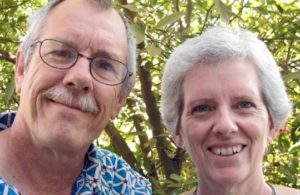 Serving in Fourou, Mali, West Africa
September 11, 2021
Distant, present and future memories
Dear Ministry Partner,
Twenty years ago, a great tragedy literally crashed into America unleashing untold pain, anguish, suffering, and loss. And as my mind goes back over these past two decades, I see great changes that have convulsed our world and the United States, and for us personally, events that impacted our lives and ministries.
Hard to imagine that twenty years ago we were living and ministering in Côte d'Ivoire and two of our children were attending International Christian Academy in Bouake, Côte d'Ivoire while one was attending college in the States. Now, all three have graduated from college and have families of their own.
For us, we did not realize it at the time, but after the events of 9/11, in less than two years we would be forced to relocate to our present location due to Côte d'Ivoire falling into civil war and our house and its belongings being appropriated by the rebel army which had taken over the north of the country. We left Côte d'Ivoire in June 2002 but returned to Africa in July 2003 to a new location, but not new ministries.
While we were in a new place, we were still able to carry on the Bible translation (though in a different dialect) and the Bible Club ministry. And with the help of your prayers and God's grace, we have been able to continue these to the present day.
And as we regard the present, it is hard to imagine through a lot of ups and downs and twists and turns, that we are almost done translating the New Testament and literally thousands of children have come to our place to hide God's Word in their hearts and learn the truth of the Bible and what it says about God, ourselves and the great salvation He has provided for us in Christ.
And as we look toward the future, God willing and again by His grace, we will be able to stay where we are so that when we retire in about three years the New Testament will be printed and in the hands of the people here and even more children will have come and learned the truth of Christ and God's great love for us through His Word.
As for the ministry these past couple of weeks, I have the joy to let you know that since our last update Pastor Mamadou and I were able to finish translating Matthew and have made good progress in translating Mark. Presently we are at Mark 2:15 and are looking to be finished with Mark 5 by the next update. Also, we will be working through the consultant's notes on the book of Revelation, and God willing at the next update I will have the joy to let you know that all the books in the New Testament (excepting Matthew and Mark) are officially approved for use here. For all this, please pray that as we finish the Gospel of Mark that we would be attentive to what is written in each verse so that we can faithfully render each one into good and proper Shempire.
In the Bible Club, while there are fewer children present, more verses are being memorized and we have had the joy of seeing some children who have been absent for some time return and begin again to memorize Bible verses. Laura's heart is especially burdened for all these children that they would not only hide God's Word in their hearts but that they would come to know personally the author of this great book and so have their lives transformed by His grace and love. Please pray with us that this would indeed become a reality in many of these children's lives.
Now, concerning our long-term requests for more Shempire readers and additional people to invest themselves in the work here, after my meeting with two men from Publish4Africa last Tuesday, I now have some good leads as to where we might be able to have the New Testament printed on the continent, maybe even here in Mali. Pray that the Lord would open the needed doors so that this aspect of translating the Bible will be taken care of.
As I look at the past, present, and future one thing has been constant in all this: God and His faithfulness to Himself and His Word evidenced by the manifold blessings we have received in and through your prayers. Thank you for having stood with us all these many years as we have sought to bring God's Word to the people here so that the eyes of their hearts will be opened and they will come to grasp God's grace and love and the glorious riches of the inheritance that we have as members of God's royal family.
In Christ
Tom R
Truth and knowing truth is the ultimate existence of man. (Ps 51:6)
September 24, 2021
Almost 12 left
Dear Ministry Partner,
This is being sent out a day early, as tomorrow, God willing we will be traveling to see our colleagues, the Frazees. Since we are deep into the rainy season here, the roads usually take a beating and get pretty torn up with canyon size holes filled with lots of good things (if "good things" means sharp rocks, deep mud and muddy water who knows how deep). So, please pray for safety in our travels both coming and going and that our time with Jeff and Heidi and family will be a mutual time of refreshment and encouragement.
As for the title, this refers to what is left to do to finish up the translation of the New Testament. As we are in Mark fourteen, and as this is the last book for us in the New Testament to translate, that means that we have less than twelve chapters to do in order to be done with translating the second half of the Bible. Please pray that we will continue to make good progress in Mark so that maybe by the middle of November this will be finished.
Also, thank you for praying for the book of Revelation and the consultant as this past Monday he sent us word that it has passed its final check. So, join with us in praising God that it is now officially approved and can be used by all in the work here. Thank you for praying us in this endeavor. With Revelation joining the other officially approved books, we have 37 out of the 39 books in the New Testament done. So, we are oh so close to seeing the New Testament translated. However, there is still a lot of work to be done as we need to add introductions to each book as well as include a glossary in the back. We also will need check all the footnotes, etc., to make sure that everything is as it should be. So, we stand in need of your good and strong prayers in all this so that we can get everything accomplished in the next couple of years.
In the Bible Club it is interesting how the Lord continues to bring new children into the Club, as just today three new boys showed up to learn some verses. So, they are starting the first set of one hundred verses. Also, this past week or so these boys finished these verses: Youssouf and Fatogoma both finished three hundred verses and Guedema finished the 17th set of one hundred verses. Yes, that means in a little over a year he has memorized more than 1,700 verses. Wow! That is truly specially and merits great praise. Thank you for praying for all these children who come and work on their verses and then listen as the Bible stories (at present from the book of Genesis) are read out loud. Please, pray for open and receptive hearts to God's Word so that it might enter deeply into them and so transform them by the grace and love of our Lord.
As for our long-term requests for additional Shempire readers and additional workers to come, it appears that there is a little hiccup in my communications with the appropriate people regarding having the New Testament printed. Please pray that the person I am trying to reach will respond to my emails. Thank you as always for faithfully standing with us in this ministry via your prayers and intercessions. You do encourage our hearts knowing that you are holding the rope.
In Christ
Tom R
Truth and knowing truth is the ultimate existence of man. (Ps 51:6)
September 27, 2021
There and back again
Dear Ministry Partner,
Thank you for praying for our travels this past Saturday. We were very pleasantly surprised that there were only a few really rough places on the road going to the Frazees and so we made it over there and back in good shape without being tossed hither and yon and basically getting beat up by the road. We also had a good time with Jeff and Heidi and their children. Your prayers were much appreciated for our travels and time together with the Frazees. Thanks.
In Christ
Tom R
Truth and knowing truth is the ultimate existence of man. (Ps 51:6)
Thank you for partnering with us and remembering all these requests before our heavenly Father.
Truth and knowing truth is the ultimate existence of man. (Psalm 51:6)
Ministry page: https://worldventure.com/tlrequadt
Telephone: 223-72-03-28-93