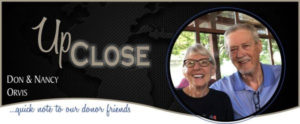 NANCY UPDATE.
Nancy seems to be doing better with the new Mayo protocol with 10 days to two weeks on antibiotics and one or two weeks off. Please keep praying…
54TH WEDDING ANNIVERSARY.
Yes, it was August 20! We received cards, texts, phone calls, and emails. Thank you all!
VERY SPECIAL ANNIVERSARY CELEBRATION.
Our dear friends, George and Karen Thomas, brought over the most lovely and delicious anniversary dinner for us. Steak, potato, vegetable, salad, and extra special trimmings including a lovely dessert!!
COLORADO…AGAIN.
We plan to be in Ridgway, Colorado, again September 7-19. The first part will be with Nate and Sue, and the second part with dear personal friends from California.
SCAMMED.
We received notice recently one of our long time (39 years), faithful, and generous donor couples was seriously scammed. Would you please join us in praying for them?
COACHING MINISTRY.
At this writing, Kay and I are coaching 11 missionaries with others on a waiting list. Thank you for remembering us and this ministry in prayer.
COSTCO CONNECTION.
While shopping at Costco recently, we ran into Keith Falconer, the older son of Pastor Dave Falconer who mentored and discipled me back in the '60s. I was Keith's eighth grade math teacher before Nancy and I got married and went to Denver Seminary as a student in 1966.
Thirty years later, when Keith was an assistant principal in Tempe, he hired Nancy when we moved to Arizona to start Face to Face International in 1996!
UPCOMING PULPIT SUPPLY.
October 3 and 10 at Passages Christian Fellowship, Laveen, AZ. These are Saturday evening services as PCF rents space from a local Baptist Church.
2021 HOLY LAND TRIP.
The new dates are April 20 – 29, 2021. If you would like to join us, please let Kay Reimer know as soon as possible at kayreimer15@gmail.com. Remember, the entire cost is totally tax deductible.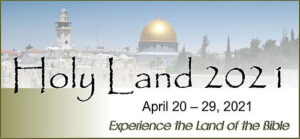 ANY PRAYER ITEMS?
Nancy and I pray together and would love to learn of any prayer items you may have. Please do not hold back. This is one way for us to minister to you. So please click on email addresses below and send us those prayer requests.

Thank you for your love, encouragement, and prayers!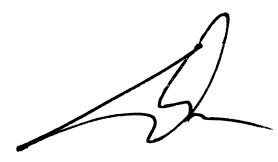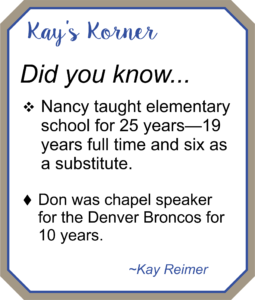 Don 602.315.5800 ~
Nancy 602.616.5806 ~
Online Giving
Click here and select "Project 022 – Orvis"
Or Check Giving
Passages Christian Fellowship | PO Box 55 | Laveen, AZ 85339
"Project 022 – Orvis" on the memo line
(Passages Christian Fellowship will send a yearly receipt.)