FIRST BAPTIST CHURCH OF PINE
OPERATION CHRISTMAS CHILD COLLECTION
OCTOBER 22ND – NOVEMBER 19TH!!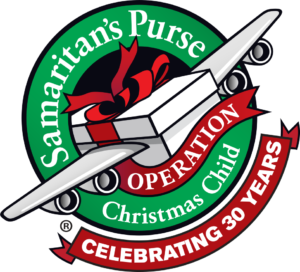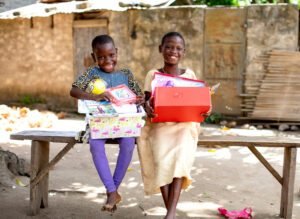 Praising God for
30

Years of Operation Christmas Child
Since 1993, God has used Samaritan's Purse to deliver over 200 million Operation Christmas Child shoebox gifts to children in need and disciple 50 million of these boys and girls.
When Franklin Graham agreed to fill shoeboxes with toys and other fun items for children in war-torn Bosnia in 1993, he had no idea what the project would grow to become. Over the past 30 years, Samaritan's Purse has collected and delivered more than 200 million Operation Christmas Child shoebox gifts, thanks to a church and volunteer network in the U.S. and around the world that is hundreds of thousands strong.
In addition to bringing great joy to millions of boys and girls in need, gifts are accompanied by the Good News of Jesus Christ. Many children have been invited to follow-up discipleship through The Mailbox Club (prior to 2009) and The Greatest Journey, a 12-lesson program designed especially for shoebox recipients. We praise God that over the last three decades 50 million children have been discipled. In the past 14 years alone since The Greatest Journey was launched, over 17 million children have made decisions for Christ.
Marina in Egypt: One Among Many
In the slums of the coastal city of Alexandria, Marina, 11, attended an Operation Christmas Child outreach event where she received a gift-filled shoebox. Brimming with toys such as a stuffed clownfish, a puzzle, a pen, and a stuffed cat dressed in purple overalls, the gift from someone far away delighted her heart.
"The thing I liked most from the box was this cat called Bundle," Marina said. "I love it very much."
But Bundle was far from the most important gift she received that day. She also learned about God's free gift of salvation at the outreach event, and it prompted her to make a significant decision.
"When I accepted Christ, it changed my whole life."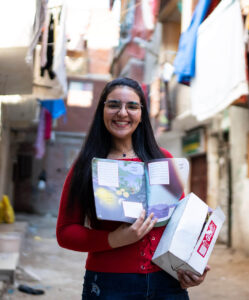 Marina went on to participate in follow-up discipleship lessons where she learned about how to follow her newfound Savior and share Him with others by studying 12 Bible stories including creation as well as Christ's crucifixion and resurrection. She said, "Each lesson, I actually learned something new about God."
Now seven years later, Marina teaches these same discipleship lessons to other shoebox recipients at her church. She does so because she desires others to have the same input in their lives as she received and called, "Wonderful!"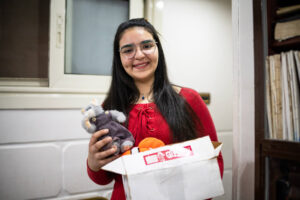 She also still keeps her shoebox gift intact with all the items inside it to remind her of God's great love for her. Marina said, "It's not easy to keep something for seven years, but because I like it, I did!"
In addition to opening her heart up to God, the shoebox gift taught Marina a significant lesson about giving.
"I think the whole idea is that if I send something to someone, I don't have to appear," she said. "I don't have to be the one that gets the credit, but God can send me something from someone I don't know and it can change my life."
"I don't have to be the one that gets the credit, but God can send me something from someone I don't know and it can change my life."

Marina is one of 200 million shoebox gift recipients and 50 million children discipled, but millions more boys and girls around the world need to discover God's love for them, just as she did. God can use you to help change the lives children like her simply by packing a shoebox! National Collection Week is coming Nov. 13-20, 2023 when more than 4,500 sites will be open across the country to receive your prayerfully packed gifts.