The Cross Family in Spain
An update from the Cross family – June 2021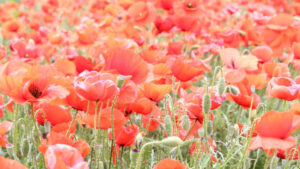 Cross Family Summer Update
If you are a part of our family's private Facebook group (Crosses in Spain) then you saw the "announcement" from Neil Diamond. They're Coming to America! Yes, it's true. As of today we are two weeks from boarding a plane and heading to the states. This will be our ONLY news letter this summer. Our next update will be given in September, after we return from the states. Below you will find various needs we still have, as well as ways you can pray, plus opportunities to meet up with us for a more personal time of catching up and fellowship. We really cannot wait to see you. It is hard to believe that we arrived in Spain over 2-1/2 years ago. (image above: taken in one of the many poppy fields in the town where we live.)
Needs
Once we arrive in the states we have several needs. Would you be willing to pray over these items below? Is this something that you might be able to help our family with?
Praise the Lord with us. A very generous gift of a home for our family to stay in has been given to us.
Praise the Lord with us. We were in need of a car for AJ for school. Because of an individual's generosity we were able to find a vehicle within our budget.
Need. I (Ruthann) do not know how to drive a manual transmission car. This skill is necessary for me to test and obtain my Spanish drivers license. Do you or someone you know have a manual transmission vehicle for me to learn and practice on?
Opportunities
Below is a brief schedule of our time in the states. We hope to see as many of you as possible while we are there. If you would like a more personal time with us, and are free during the week, please reach out to us so we can reserve a spot on our calendar JUST FOR YOU.
June 28th: Arrive in AZ
July 4th: At Palmcroft Church Phoenix & visiting the Family Builders Class
July 11th: Share in Family Builders Class at Palmcroft Church Phoenix
July 18th: Visiting Palmcroft Church Anthem Campus
July 19th-23rd: On our way to California to see partners and family
August 13th: Dessert Open House at Palmcroft Church Brick House 6pm-8pm
August 23rd: Leave for Spain
Finances
Unfortunately over these last few months our financial support has taken quite a dip. We are currently $1,200 a month short or 88% of our monthly support. We would love to be back to 100% by the end of the summer. If you or someone you know would like to hear more about the ministry of the Friendship House send us an email so we can set up a time to meet. It would be a privilege to share with you all that is going on and all that we hope to accomplish this next school year.
If you would like to increase your monthly support or become a new monthly/quarterly/yearly financial partner, click the link to the right to get started.
Much love & many blessings,
Sean & Ruthann
Our mailing address is:
Cross Family
Calle de Ntra Sra del Rosario 39
28816 Camarma de Esteruelas
(Madrid)
Spain
Our emailing addresses are:
Sean: sean4031@gmail.com
Ruthann: ruthanncross@hotmail.com
As our time draws closer for departure to the states it appears our "to do" list continues to grow. Below is a short list of things to pray over. Would you pray for…
Peace & wisdom in the midst of all this rush. Would you pray that although our "to do" list is long, we would recognize the things that are truly most important & we would focus on those?
Wisdom. Would you pray for wisdom for Sean & I as we walk alongside AJ as he says some good goodbyes to those who have made a lasting impact on him here in Spain?
Negative. On June 25th our entire family will be having our Covid tests done so we will be allowed to board our flights back to the states. Would you pray for 6 NEGATIVE tests?
Tests. Something I haven't shared. While here in Spain, I (Ruthann) have been trying to get my thyroid hormones under control. I have had many blood tests & doctor appointments. Both a blood test & doctor appointment will be happening these next two weeks. Would you pray for good appointments, clear results and peace for the outcome for me?
Flights. Would you pray for smooth flights? (We are all secretly hoping for a flight that's not very full.) As of right now, we have 1 layover in the states and then onward to AZ. Please pray that no changes to our itinerary would be made.
1. Click on the "Cross Family Partner" button below.
2. One on the website, click "Create a Partner Account" or login to your existing account using your email.
3. Select the type of donor (ex. person, organization)
4. Enter your personal information.
5. Enter "213" or "Sean and Ruthann Cross" when asked about the worker you'd like to support. This will ensure you are supporting our family.
GIVING BY PHONE: Call (720) 283 – 2000
GIVING BY MAILING A CHECK:
1. Make the check payable to "WorldVenture"
2. Add our families account number "213" on the memo line.
3. Mail the check to WorldVenture 20 Inverness Place East Englewood, CO 80112.
Again, we are so thankful for your willingness to join us in ministry here in Spain.
Blessings,
Sean and Ruthann Cross
WhatsApp +34 646 303 319 Sean
WhatsApp +34 676 495 880 Ruthann