The Cross Family in Spain
An update from the Cross family – November 2022

PSALM 90:17
Let the favor of the Lord our God be upon us, and establish the work of our hands upon us; yes, establish the work of our hands!
Perhaps there are many global workers who would disagree with me, but this is where I am coming from, what I have experienced.
If you would like to feel ill-equipped and receive a heavy dose of humility, become a global worker. Everything I was confident in, everything that made me feel I could contribute to a team, was shot out the window the moment we moved overseas.
This is turning into a pretty positive update, huh? Stick with me for just a moment.
When we moved overseas I was filled with these hopes and dreams of how I may be able to contribute to the ministry. Then came a giant curve ball. Language learning. Trying to learn a new language over the age of 40 is no joke. How can I communicate the truth of God's word when I can barely string a sentence together? How can I make an impact? Perhaps He wasn't asking me to communicate verbally…right now…in this moment, but instead communicate through written word.
God, in His goodness, reminded me of something I used to do in my quiet time. Bible journaling. I have only shared my bible journaling with two people; a dear friend/sister in Florida and our daughter. Bible journaling, for me, is very personal. There is just something about writing out a verse of scripture…erasing it…drawing out the verse again…erasing a few words because I don't like how it looks…drawing out the words yet again…only to erase them AGAIN because I think they look crooked… I'm sure you get the idea.
We have two portable chalkboards. Every few months I will draw out a verse of scripture, put the board on display somewhere in a classroom and leave it. (I've been doing this for well over 2 years now.) Our colleagues might make a comment about a new verse I put up, but other than that…I typically don't hear much of anything, and quite honestly, I'm okay with that.
Then came last week. Our colleague came to me and showed me the profile picture of one of our students. This student is one of our friends from the south. She happens to have an educational foundation that enables her to read, write and understand Spanish. She understood what was written on the small board and still wanted to take a picture of it and make it her profile for a social contact group. This may not sound like a very big deal, but anyone who has any sort of social media knows your profile picture is seen by anyone and everyone you are in contact with. (This person is not (yet) a follower of Christ.) May she truly come to accept and know that NOTHING can separate her from the love of God.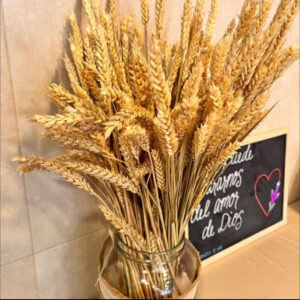 ROMANS 8:38-39
For I am sure that neither death nor life, nor angels nor rulers, nor things present nor things to come, nor powers, nor height nor depth, nor anything else in all creation, will be able to separate us from the love of God in Christ Jesus our Lord.
Much love & many blessings,
Sean & Ruthann
Our mailing address is:
Cross Family
Calle de Ntra Sra del Rosario 39
28816 Camarma de Esteruelas
(Madrid)
Spain
Our emailing addresses are:
Sean: sean4031@gmail.com
Ruthann: ruthanncross@hotmail.com
1. Click on the "Cross Family Partner" button below.
2. One on the website, click "Create a Partner Account" or login to your existing account using your email.
3. Select the type of donor (ex. person, organization)
4. Enter your personal information.
5. Enter "213" or "Sean and Ruthann Cross" when asked about the worker you'd like to support. This will ensure you are supporting our family.
GIVING BY PHONE: Call (720) 283 – 2000
GIVING BY MAILING A CHECK:
1. Make the check payable to "WorldVenture"
2. Add our families account number "213" on the memo line.
3. Mail the check to WorldVenture 20 Inverness Place East Englewood, CO 80112.
Again, we are so thankful for your willingness to join us in ministry here in Spain.
Blessings,
Sean and Ruthann Cross
WhatsApp +34 646 303 319 Sean
WhatsApp +34 676 495 880 Ruthann