Sunday Bible Studies at First Baptist Church of Pine
Leader – Glen Galster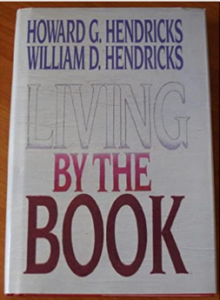 For every person who draws strength and direction from the Bible, there are many more who struggle with it. Some call it a long book with fine print and obscure meaning. Some call it a mystery, a chore to read, or an undecipherable puzzle.

The good news is you can easily solve this problem. With over 300,000 sold, this revised and expanded edition of Living by the Book will remove the barriers that keep Scripture from transforming your life. In a simple, step-by-step fashion, the authors explain how to glean truth from Scripture. It is practical, readable, and applicable. By following its easy-to-apply principles, you'll soon find yourself drawing great nourishment from the Word—and enjoying the process! The Living by the Book Workbook is the perfect compliment to provide practical application of lessons.
Leader – Don Voakes
"EVERYTHING YOU NEED!"
For those of you who still have your books, please bring them, we will begin on Chapter #1, "The Promise" this week.
Please join us on the roadmap to "Stumble-Proof Living". where we will learn exceedingly great & precious promises, diligence, virtue, knowledge self-control, perseverance, godliness, brotherly kindness and love.

.
2 Peter 1:1, NIV–"His divine power has given to us all things that pertain to life and godliness, through the knowledge of Him who called us by glory and virtue, by which have been given to us exceedingly great and precious promises, that through these you may be partakers of the divine nature, having escaped the corruption that is in the world through lust. But also for this very reason, giving all diligence, add to your faith virtue, to virtue knowledge, to knowledge self-control to self-control perseverance, to perseverance godliness, to godliness brotherly kindness, and to brotherly kindness love. For if these things are yours and abound, you will be neither barren nor unfruitful in the knowledge of our Lord Jesus Christ. (1:3-8)
In his new book and teaching series

Everything You Need

: 8 Essential Steps to a Life of Confidence in the Promises of God, Dr. David Jeremiah we will follow the trail of God's logic. It runs through the passage like a needle pulling a golden thread.
Even more, you'll find HE is EVERYTHING you need."