September 2022
Shalom, dear friends and supporters! It is my prayer that each of you is well and abiding in the Lord as He abides in you. I thank our Savior, Yeshua HaMashiach, Jesus the Messiah, always, for your steadfast support, faithful prayers, and gracious love that make all things possible.
Unexpected Blessings
As our Bible study/fellowship, Tikvah BaMidbar (Hope in the Desert) prepares to celebrate the fall feasts, I am also trying to prepare my home. I needed my carpets cleaned and made an appointment with a cleaning company. Bob showed up and evaluated my carpets, relating what needed to be done. He did a beautiful job, and afterwards we engaged in a conversation. Bob told me he was the owner of the start-up company and when I asked him what he did previously, he said that he worked in foreign diplomacy and had lived in eight different countries. Since he was the owner of the company, he told me he had time to accept my invitation to sit down and talk, as I was interested in hearing his story. He was also interested in hearing mine. During our discussion, he said that following a painful divorce, he had met a woman who is "a believer, like you," and has asked him to attend church with her. He agreed, but didn't understand everything about what it meant to be a born-again believer in Jesus, and had yet to take that leap to a confession of faith. Following our talk, he thanked me for giving him food for thought and hoped I would hurry up and dirty my carpets so that he could come back and continue our conversation. I told him I would be praying for him. Please join me in praying that Bob would receive Jesus as his Lord and Savior.
Another Unexpected Blessing
And then something happened to my TV. It wasn't working right, so I called my cable company to make a service appointment. Ben, an older, extremely knowledgeable gentleman, was the repairman. He had an accent, and I asked him about his native country. He is Russian, born in the Soviet Union, and told me what it was like to live under a Communist regime, and that he was also Jewish. He was so grateful to live in America, but was now concerned about the changing ideology since he is conservative, as are all of his four children. He discussed the freedom of religion, which he was denied in Russia, and now attends a synagogue, but had difficulty expressing what he believed. I shared the Gospel message with him—which he had heard for the first time — about Jesus, his Jewish Messiah, and challenged him to read the New Testament. Ben had to return a second time, as my TV was still acting up. I told him that God wanted him to return so that we could continue our conversation. Please pray that the seeds planted would come to fruition.
Again
And then I was having a problem with my pool — almost everyone in Arizona has a pool, thank God! So I interviewed a representative from a pool company, who told me that he was the owner. We discussed his evaluation of my pool, and when I asked him how he got interested in starting his own pool company, he told me his story. He is originally from San Antonio, so I mentioned that my mission's headquarters are there, which led to a discussion about his faith. He said that he grew up in a Christian home and attends a large Bible church here in the Valley. When I asked him if he was a born-again believer, he didn't understand the question, so I explained. Please pray that he would take that step of faith.
Also, please pray for the salvation of a Jewish Israeli couple, "J" and "P," who now live in Phoenix, and whom I've known for a few years. They claim to be atheists and have trouble believing in Creation. I gave them Dr. Walt Brown's book, In the Beginning: Compelling Evidence for Creation and the Flood. I spoke with J recently and asked her if they read it and what they thought. She said that it was interesting, but it didn't change their minds. I told her that I would continue to pray for them. Praise God that it didn't affect our friendship, as we will be getting together soon.
The Feasts of Israel
The Seven Feasts of Israel were not meant to be observed only as memorials for Israel, but to be understood as the foreshadowing of prophecy—fulfilled by none other than Jesus the Messiah, according to His redemptive calendar. The fall feasts all occur within a 30-day period at God's appointed times (Lev. 23:4). Here is a brief synopsis of two of these feasts.
Rosh HaShanah
Biblically, the fifth feast of Israel is known as "The Feast of Trumpets" (Lev. 23:23-25). Its purpose was to usher in the Jewish New Year, and for Israel to remember God's goodness. In the fulfillment of this feast, the shofar (ram's horn) will be used to announce our Messiah's appearance in the clouds, known as The Rapture. The Tekiah Gedolah (the long, last blast of the shofar on Rosh HaShanah) will be the "Last Trumpet" sounded at the Rapture of all true believers (1 Thess. 4:16-17; 1 Cor. 15:51-52).
Yom Kippur: The Day of Atonement
The sixth feast of Israel falls 10 days after the The Feast of Trumpets. The ten days in between are known as Yomim Nora'im, the Days of Awe, and are the most profoundly significant days to Jewish worshipers throughout the world. It is a time of repentance, fasting, and examining themselves to see how they could be more pleasing to God. They believe that the annual atonement for sin is necessary so that, through prayers and good deeds (mitzvot), their names may be written in the Book of Life. The future fulfillment will come at the end of the Great Tribulation (the Time of Jacob's Trouble). Jesus will return in all His glory at the Second Coming (Zech. 12:10) and a permanent cleansing will take place when Israel's sin is removed (Rom. 11:26-27). The Lord called my husband, Barry, home on Yom Kippur, September 24, 2015. I praise God that he, in his own words, was "at-one-ment" with the Lord.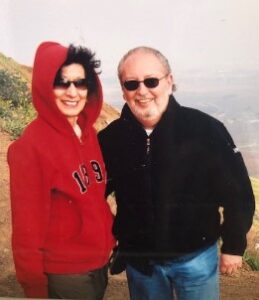 Barry and me in Golan Heights, Israel
I pray that these feasts put an urgency in our hearts to pray for the salvation of Jew and Greek alike (Rom. 1:16). Thank you, always, for your faithful prayers and financial gifts that make all things possible. "Not that I seek the gift, but I seek the fruit that abounds to your account" (Phil. 4:7).
In Messiah's love and mine,
Violette Berger
As the Lord leads, please include a note referencing all future gifts for Violette Berger to:
CJF Ministries
PO Box 345
San Antonio, TX 78292-0345