Echo Media Missions with Mike & Kim Medlin
Together, we can reflect Heaven's heart for Filipino youth thru media.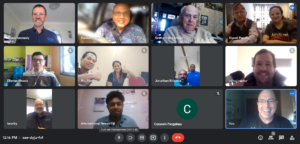 The whole is greater than the sum of its parts.
I love this axiom. It represents something I've come to refer to over my missionary journey as "God-math". It's the type of math that doesn't compute well on a calculator and only makes sense of any kind through the lens of faith. This week marks our 9th year of serving (that's a bit of God-math in its own rite) the Philippines as a member of UCB (United Christian Broadcasters) Asia-Pacific. We are a small, but mighty band of brothers and sisters that share a joint vision and passion for reaching the lost and encouraging the saints in our corner of the world through Christian media of all forms. Most often our heads are bent over in the fray of the work in our individual countries, but occasionally we get to lift our heads and catch a glimpse of the beautiful mosaic that God is piecing together through our combined efforts. Last month, as many of us as could from Sri Lanka, Fiji, Papua New Guinea, Nepal, the Solomon Islands, the Philippines, and Australia came together for a much appreciated hour of online fellowship and encouragement. Thank you God for the gracious reminder that we are not alone in the work and You are accomplishing something so much BIGGER than any of us. What a blessing to be a "part"!
It took an act of Congress.
A task which began shortly after we arrived here 9 years ago is at last reaching completion. I received some of the most delightful news EVER this past week from our attorney. (When was the last time you had good news from an attorney, right?) The ministry's broadcast franchise was approved by the Philippine's Congress and has been sent to President Duterte for signature. The bill will automatically lapse into law on August 1, paving the way for another 25 years of broadcast ministry for the Edge Radio Network. Thank you Jesus and to our most amazing team who worked so tirelessly to make this happen!!!
Together Again, Again.
After just three months of government capacity-restricted meetings, LifeCity Church, along with the rest of Manila's churches, was again forced to bar its doors under lockdown measures. For the second year in a row believers were denied the opportunity to gather during the most significant worship event of the year… Resurrection Sunday. Prayerfully that is all behind us now and we were allowed to resume our limited capacity gatherings again this past June 6th. It's been a treat to once again deliver messages face to face instead of face to computer screen!
Filipinos are incredibly strong and resilient people, but everyone has their limit. The isolation caused by lockdowns here has been just as lethal for some as sickness. Sadly, believers can also fall victim to the emotional, spiritual and physical weight of isolation. A former attendee at our church lost his mother the year before the pandemic. Shortly thereafter he stopped attending church. As a teacher, he lost his job during the early months of the pandemic after all local schools shifted to distance learning. As a single guy, that not only meant a loss of income, but also the loss of his remaining social interactions. Combined with the sadness of losing his mom and his personal struggle with diabetes, he lost his will to live. Our church just learned he sadly passed away last month.
Join us in praying for the countless unknowns that are becoming silent victims of a year and 4 months of lockdown.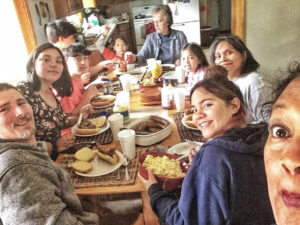 Kim and our young ones are enjoying some substantial time with Lola (Grandma) in Iowa. For Oreo and Leia, growing up in the Philippines has meant only knowing Lola as a picture on the fridge and someone they've heard stories about. We're so grateful for this time they have to build some lasting memories with this beautiful godly woman that has given them such an amazing heritage of faith and service. As a real bonus, they also get to know their Aunt (Kim's sister Andrea) and Uncle Jacob and all their cousins. This pic is from the first Mother's Day Kim has had with her mom since she was in college!
Three years ago, God prompted me to start an unexpected trek up the mountain of higher education. Having just completed another 6 credit hours this past week, I'm just two courses and two internships away from completing my Masters in Ministry from Grace School of Theology. Without overstating, God has transformed me through my time in seminary. My vision of the future is different, my passions are different, and most importantly my heart is different. Thanks for praying with me for the energy, focus, and discipline to finish strong! I'm slated to graduate May 2022!
Bless you Friends,
Directors, Echo Media Missions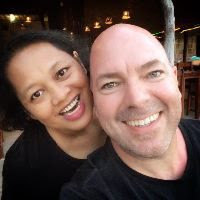 If you would like to be a part of helping more families that we live amongst, please let us know by clicking the donation button above.
If you prefer to give via check, please send to Echo Media Missions, P.O. Box 26905, Prescott Valley AZ 86312.