Echo Media Missions with Mike & Kim Medlin
Together, we can reflect Heaven's heart for Filipino youth thru media.

Kim returned to the US along with our 2 youngest children Oreo and Leia in April of 2021 to be with her mom who is in the early stages of dementia. Maverick, our 15 yr old, stayed behind with me in the Philippines with an original goal of us joining Kim in the US in May of 2022. This would allow me to graduate from seminary without potentially jeopardizing the Philippine's residency scholarship I was on. It would also allow me to continue our ministry, to aid in a leadership transition, and prayerfully see our 25 year broadcast franchise renewed before leaving. The best laid plans of mice and men… the situation in the US with mom was more than Kim could bear for that long with me in the Philippines so our departure timeline got advanced to September 2021. Praise the Lord, our franchise was renewed in August, one month before we left! Since September, I've continued our ministry from afar by assisting our new Filipino leadership as he transitions into his new role and by continuing to program our digital ministry platforms. I've also been working alongside another broadcast mission agency, Trans World Radio, providing consultation and conducting research on a new digital ministry they are launching for unreached men in Africa and Asia. I've also been working to finish seminary and graduated just this past May with a Masters in Ministry from Grace School of Theology, who were gracious enough to extend my scholarship through graduation regardless of where I resided. God is too good. Also, our Filipino scholar who our donors provided for us to send to college has now graduated with her B.S. in Accounting. Our prayer is that her new education will open doors for her family to escape the poverty they have been generationally trapped in.
We miss the Philippines greatly and would love to go back some time down the road, but for now God has us planted here in Iowa to be with Kim's mom. My commitment to the ministry when I left was a 1 year home assignment to aid with transition and that will be coming to a close next month. We are so grateful for the partnership of your family and church for all the beautiful years God gave us serving such beautiful people. Although my official responsibilities are coming to an end with our mission, we will continue to champion the cause of the work and our team. Those that wish to continue to support the work in the country through our radio stations and church are encouraged to do so. If enough are interested, we will maintain Echo Media Missions for that purpose and serve as a conduit of ministry support for them.

Merry Christmas from the Medlins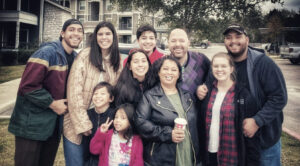 Merry Christmas everyone!
We pray that the end of 2021 finds you healthy and well and surrounded by loved ones. Kim and I are so thankful for your friendship and faithful support for our ongoing work in the Philippines. As most of you know, this past year brought some unexpected change for our family, making this a very different holiday season than any we've experienced the past 9 years.
In September God moved us from Manila to Farm Country USA (George, IA) to be near Kim's mom who's been going through some significant age-related health issues. The weather here has been bitter cold, reminiscent of my old Army days in Alaska. Some days the temps don't escape the teens and we've had multiple blizzards already. Our kids continue to marvel at this white stuff that falls from the sky.
Passing it on…
We were so blessed to give our remaining household items in Manila to our beloved "Leny" and her family. Thanks to your financial support Leny is set to graduate from college with a degree in accounting this next May! (It was an engineering feet par excellence to watch her dad load their rented motor bike sky high with their new belongings.)
One if by land, two if by sea, three if by both?
After several months of delay due to the port issues out in California, the items we shipped from Manila finally arrived in early December on one of our first snow days. When we left for Manila in 2012, it was with our suitcases and 8 boxes. We're starting over in Iowa with just our suitcases and 5 boxes.
The move not only has allowed us to be near Mom and Kim's sister and family but has also made our adult kids accessible by a day's drive. We made the trip to TX a few weeks ago for our first Thanksgiving with Dylan (and wife Malorie), Tyler (and wife Katie) and Sierra since they each flew from our nest in Manila. We're so grateful for the few days we got to spend with them.
As much added joy as we've had this holiday season, there's also been sadness related to our move. One philosopher observed that "We leave something of ourselves behind when we leave a place, we stay there, even though we go away." We left a huge chunk of our hearts in Manila as we terribly miss our Filipino brothers, sisters and ministry families at UCB and LifeCity Church. Our precious nine-year-old Oreo often asks when we'll get to go back home.
Breaking bread one last time…
A handful of our brave LifeCity family gathered at a local restaurant during the pandemic to give Mav and me a celebratory send-off, or despedida in Filipino. We love and miss these guys so much.
Our work continues from the USA…
Fortunately, the web allows me to stay connected to both the broadcast ministry and church during this season. As of now, our plans are to do a one-year home assignment as I continue serving both UCB Media Philippines and LifeCity. For UCB, my focus will remain on programming support and aiding the leadership transition. For LifeCity, my efforts will center on writing discipleship and training materials and serving as part of the leadership team.
Prayerfully, this one-year home assignment will also allow me to complete my seminary studies and maybe even graduate on site at Grace School of Theology in Houston, TX next May. I'm just two courses away from completing my Masters in Ministry. PTL!
Lastly, I've been approached by another international media mission. They've asked me to join a new global broadcast initiative for unreached English speakers. It sounds like a really great opportunity but I'm also faced with possibly needing to go back to work part-time. Our support has dipped since coming on home-assignment and we could really use your prayers for wisdom and discernment during this season.
As you pray, here are a few other requests from "back home":
Our flagship station, the Edge Kidapawan, which serves the Muslim concentrated regions of Central Mindanao has been blessed with recently completing a studio expansion project, making room to accommodate more ministry partners with a larger on-air studio and dedicated production studio. They still have equipment needs to finish this project. If you'd like to help, please let me know.
The area the Edge Guihulgnan serves was hit by a late December typhoon. These farming and fishing communities need our prayers for swift economic recovery after the losses of crops, boats, and housing during the pandemic.
Lastly, the government is now allowing those that are vaccinated to return to face-to-face church services. Pray for LifeCity as we continue to serve both vaccinated and unvaccinated with on-site and online services. Those that meet on-site have been able to return our traditional church venue at the Holiday Inn in Makati and were able to resume our annual Christmas outreach to the hotel staff this past weekend!
Thank you for praying with us for these and please let us know how we can be praying for you and your family in the New Year.
Happy Holidays! God has drawn near. May we all strive to stay near Him in 2022.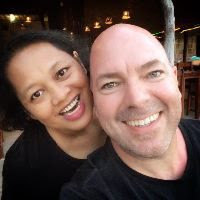 If you would like to be a part of helping more families that we live amongst, please let us know by clicking the donation button above.
If you prefer to give via check, please send to Echo Media Missions, P.O. Box 26905, Prescott Valley AZ 86312.