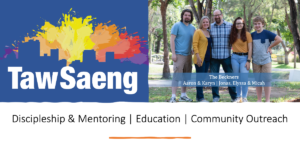 I wanted to send out a quick prayer list for you to lift up to the Father on our behalf.
Praise God, today is the 27th wedding anniversary for Karyn & I. In this time in history, I feel beyond blessed to have a ministry partner and companion who is also my best friend and whom I still love very much! And… believe it or not, she still loves me too! wink, wink.
Praise for the visit of my mom Joyce, daughter Elyssa and nephew Ethan! It was a good medicine to our soul the month they stayed with us! They were a blessing in serving alongside us here too!
Praise that Elyssa got a new job at Hero's coffee in Bentonville, AR. Pray for her as she is also seeking out a long-term position in a ministry or non-profit organization.
Pray for Micah in finishing his school year and for him as he says goodbyes to close friends leaving Thailand.
Pray for TawSaeng as we go with our students to serve a ministry working in a community about 5-6 hours from Chiang Mai. Pray for our students who will be leading worship songs, games, teaching English, Bible, and life skills to younger students. We will be visiting a small local church here too. Pray for me as we connect, pray for and encourage their leaders. Pray for Kingdom fruit and in the students serving and students being served. Pray for the gospel to be clear and the love of Jesus to be evident. Pray protection over us and our travels.
Pray for protection over Karyn and Micah, as they will stay home so Micah can continue school.
Do you or someone you know have a dependable used car for sale or to pass along? Jonas needs a newer dependable car for work. In 2019 our family was given a car by dear friends who said yes to God when Jonas needed transportation for work and school. The car has truly been a great blessing to him and to us. Unfortunately, the current repairs needed outweigh the value of the vehicle. Please, send us an email if you have a lead on a vehicle.
Give $500 for 70 backpacks w/school supplies. Give $375 for food and supplies for about 70 families from a refugee area of Thailand where our students will assist another ministry in doing an outreach event on July 29 and 30. Another ministry has agreed to match the $375 we raise for food to maximize your impact through us.
Thanks for being our partners for the Gospel!
Grace & Peace from Thailand,
Chiang Mai, Thailand

+66 94-823-3104 Thai cell