The Cross Family in Spain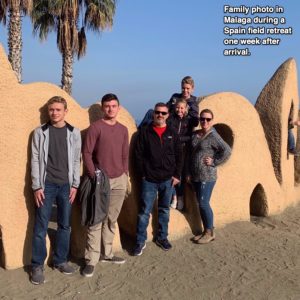 An update from the Cross family – May 2019
Two Sundays ago the Church celebrated the Lords resurrection. Reflecting on his sacrifice and ultimate freedom for us as believers from the bondage of sin and eternal death. For most of us we celebrate this day getting dressed in our Sunday best with a great church service and a wonderful meal with our family and friends.
This particular Easter was unique for us as it was our families first Easter in Spain. We were blessed to join 20 others in worship and celebration in a town here where there is no body of Christ and there is no understanding of what Christ did for them. As we lifted our voices in song I could not help but tear up and think of the lost just outside that room walking by. Were our voices being heard? Did they know who we were singing about? Would those words have an impact on them?
As we go throughout our day here in Spain we pray the Lord's light will shine bright in this neighborhood and beyond as we continue to live and build relationships among N. Africans.
School is coming to a close here in Spain and our kids are just a few weeks away from summer break. Our kids are looking forward to being done with their first semester. To be honest it has been hard on each of them entering a new school part way through the year but they continue to amaze us and we see how God is working in each of their lives. Please continue to pray for them and us as we try to navigate these waters together.
Ruthann and I continue to take language classes each week with our language instructor as well as several hours on our own each day. This often leaves us exhausted and sometimes discouraged when we feel we are not progressing. Our instructor is very patient with us and continues to encourage us letting us know we will get it, little by little. Poco a poco. Please pray we have the strength needed to press forward and continue to advance in our language learning.

Praises:
Praise the Lord for a fantastic team of servants from Palmcroft Church. The love & hugs (and large amounts of dark chocolate) were a great encouragement to our souls. Praise the Lord for spring time and the school year coming to a close. Pray our children will continue to work hard, that they will keep their focus on finishing well, and remember constantly Who they're doing their work for.
Praise, (yes, this is a praise) the Lord. We have had a few issues with the house we are living in, BUT, our landlord's have been amazing, understanding and very eager to fix the problems. Pray that this time would allow us to practice our Spanish and build more of a relationship with our landlords and the handyman they have sent to fix the issues.
Prayer Requests:
Pray for our (Sean & Ruthann's) language learning. Pray our Lord, the Creator of all languages would loose our tongues, and tune our ears to the beautiful Spanish language.
We have mentioned in the past our need of a vehicle. Having gone without for the past couple of months has been difficult, but we feel we are close to starting the process. Please pray we make a wise decision in our purchase and the purchase process goes smoothly.