First Baptist Church of Pine
Morning Worship Service will be at

10:30am
Children's Church is also available
Adult Bible Study will meet at 9:15am
Evening Fellowship tonight at 6:00pm
There will be

NO

Children's

Sunday School.
If you are not feeling well, stay home,
if you are high risk for virus infection, stay home.
"With man this is impossible, but with God all things are possible."
Matthew 19:26
This is just a reminder: Please continue to give your tithes and offerings.
The mailing address is First Baptist Church of Pine,
P. O. Box 354, Pine, AZ 85544.
Also, for your convenience,
a offering box is available in the foyer on Sunday morning.
Children's Sunday School:
Adult Sunday School: 9:15am

Evening Fellowship:
6:00pm
"We Will Not Be Silenced"
AWANA Sparks (grades K-2) meet from 2:45 – 4:00p.
AWANA Clubs T&T (grades 3-6), Trek (grades 7-8) &
Journey (grades 9-12) meet from 4:30 – 6:00
Women's Bible Study –
"Daniel"
Office hours: 10:00 am to Noon
Office Hours: 9:00 am to Noon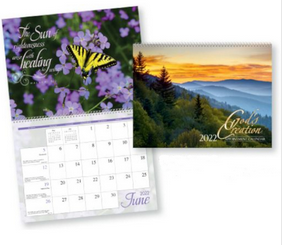 2022 CREATION CALENDARS
AVAILABLE AT CHURCH

PRAYING FOR THE PERSECUTED CHURCH
Iran is the leading Shia Muslim country and has been an Islamic Republic since the 1979 revolution. An Islamic cleric, Ayatollah Ali Khamenei, is the Supreme Leader and appoints key judicial and military posts.
Historic Assyrian and Armenian Christian minorities, whose languages are not understood by the majority Muslim population, are permitted to worship in their own languages. There are thought to be around one million Muslim-background Christians inside Iran. These are the main target of persecution, as well as any Christians who evangelize Muslims or conduct worship in Farsi, the national language.
Such Christians are often charged with "acting against national security" and imprisoned. For example, seven Christians from a Muslim background were convicted of "propaganda against the state" and sentenced to a variety of penalties in June 2020, including prison, fines and other punishments. Their convictions were based on possession of Christian literature and other materials that suggested they had been evangelizing Muslims.
There are also many Christian converts from Islam amongst the Iranian diaspora. The government seems to have a strategy of getting new converts to leave the country voluntarily, by arresting them and releasing them again soon afterwards. Because so many do leave, it means that most leaders of convert groups have little theological education.
In May 2020, the Iranian parliament approved changes to its Islamic Penal Code that make it easier to repress and punish converts from Islam and Christians seeking to share their faith. Anyone found guilty of using "mind control methods" or "psychological manipulation" for "deviant educational or propaganda activities that contradict or interfere with Islamic teachings" can now be punished, even with the death penalty.
A court rules that Lydia, the adopted daughter of converts Sam and Maryam, must be removed from her parents, after they were sentenced in June 2020 regarding their Christian activities.
Ask that new believers leading convert groups will be equipped by the Lord to nurture even newer converts toward a firm grounding in their faith. Pray for courage for imprisoned Christians and for those who have to flee their homeland and families.
Coming Events
December 5, 12, 19 – Evening Fellowship
December 6, 13 – AWANA Clubs
December 7, 14 – Women's Bible Study
December 12 – Third Sunday in Advent "LOVE"

December 12 – Holiday Basket Collection (last day to bring)
December 12 – Women's Fellowship Cookie Exchange
December 19 – Fourth Sunday in Advent "JOY"

December 24 – Christmas Eve
December 25 – Christmas Day
December 26 – NO Evening Fellowship
December 31 – New Year's Eve (Watchnight)

January 3, 10, 24 – AWANA Clubs
January 4, 11, 18, 25 – Women's Bible Study
January 8 – Men's Fellowship Breakfast
January 9, 16, 23, 30 – Evening Fellowship
January 17 – NO AWANA Clubs
FBC Lending Library
FBC Pine has a library with many books/DVDs. These are available in the north hallway of the fellowship hall. All books and DVD's can be checked out on the honor system. Now available…new, current and entertaining DVD movies.
Affiliated with Southwest Church Connection