First Baptist Church of Pine
Sunday Morning Worship begins at 10:30am
Children's Church will be available.
Adult Bible Study this morning at 9:15am
No Sunday Evening Fellowship
"And the WORD became flesh and dwelt among us, and we have seen His Glory, Glory as of the only Son from the Father, full of GRACE and TRUTH."
John 1:14 ESV

We have a link for electronic giving.
Check it out under the Contact/Support link above.
The mailing address is First Baptist Church of Pine,
P. O. Box 354, Pine, AZ 85544.
Adult Sunday School:

9:15am
Morning Worship Service:

10:30am
Children's Church:
(5 yrs to 10 yrs old):
meets during Morning Worship Servicing
Evening Fellowship:
5:00pm
The Book of Signs –

Dr. David Jeremiah
Monday:

AWANA Sparks
(grades K-2)
meet at 3:15pm-4:30pm.
AWANA Clubs

T&T

(grades 3-6),
Trek

(grades 7-8) &
Journey

(grades 9-12) meet at 5:00pm-6:30pm.
AWANA REGISTRATION 2023-2024
(Your child can start at anytime during the year)
Tuesday: 9:15am

Women of the Word Bible Study

"When Faith is Forbidden"-

40 days on the Front Lines with Persecuted Christians

by Todd Nettleton



Office hours: 10:00 am to Noon
Office Hours: 9:00 am to Noon
Coming Events
November 27 – AWANA Clubs
November 28 –

WOW Bible Study
December 2 – Men's Fellowship Breakfast

December 3 – Communion Celebrated
December 3,10 – Sunday Evening Fellowship(5:00pm)
December 4,11,18 – AWANA Clubs
December 5, 12 – WOW Bible Study

(12th is last session)



December 9 – Ladies Cookie Exchange
December 17 – Christmas Caroling
December 24 – Christmas Eve Candlelight Service
December 25 – NO AWANA Clubs
December 25 – Happy Birthday Jesus!
December 31 – New Year's Eve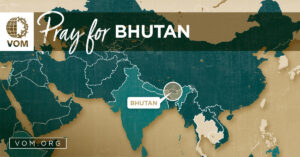 PRAYING FOR THE PERSECUTED CHURCH
Overview:
Until the 1980s, Bhutan was isolated from the rest of the world by its Himalayan geography, poor infrastructure and poor international relations. In 2008, the country adopted a multiparty constitutional democracy and implemented a new constitution that affords a greater level of religious freedom. Most Christians in Bhutan are of Nepali heritage, and believers are focused on reaching the ethnic Bhutanese with the message of Christ.
Major Religion:
88 percent of the Bhutanese people are Buddhists. Approximately 1 percent are Christians.
Persecutor:
Christians are restricted by federal laws and persecuted by local authorities.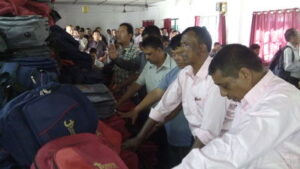 What It Means To Follow Christ In Bhutan:
The king identifies himself as the defender of the Buddhist faith, and the government works covertly to discourage the spread of Christianity. Christians are viewed as followers of a foreign, Western religion. There is no opportunity for the legal registration of churches in Bhutan. Christians often lose their jobs and are unable to find work because of their faith. Many Christians must worship in secret.
Access To Bibles:
Though small numbers of Bibles are allowed into the nation legally, the government continues to restrict widespread distribution. Most Bibles must be smuggled into the country from neighboring nations.
Voice Of the Martyrs Work:
VOM provides Bibles and discipleship resources. We are also supporting the training and discipleship of future local church leaders.
Prayer Requests:
Pray that those reaching out to college students will be granted grace and favor.

Pray that God will continue to raise up more women for ministry.

Pray for successful Bible distributions in the country.
Pray for an increase in youth engagement with the gospel.

Pray that God will mobilize more Bhutanese Christians to share the gospel with the unreached.
Affiliated with Southwest Church Connection